Too busy to plan your event?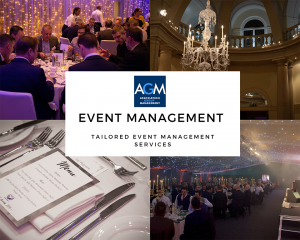 So, you've got a special event in mind. Where on earth do you start, and how are you going to find the time to plan in your already jam-packed, maxed out schedule? AGM specialise in taking away all the stress and worry from event planning, to help deliver the event you were dreaming of.
Using a professional event planning and management company is the ideal, stress-free solution to organising any type of event from conferences, awards ceremonies, seminars and many more. The support AGM offer includes:
Theme and Styling
Sometimes the theme or style for the event is imagined before any other details, but sometimes it's just a concept. Either way, implementing a complete vision for the event is crucial to fulfilling the overall brief. This can include working around a set colour scheme, subject or recreating a film.
Venue finding
Finding a venue to host the occasion can be an arduous task in your event planning process. With lots of tick boxes to fill, it may seem like the perfect venue doesn't exist. At AGM, we take on board your event brief and source suitable venues to create a shortlist. From this, the final decision is made.
Sourcing suppliers
Hosting a first-class event sometimes requires multiple suppliers, which can cause quite the headache. How do you find the best ones, at the best price, who are still local? AGM has an extensive database of suppliers from caterers to florists who can deliver quality service every single time.
Financial management
A first-rate event doesn't have to be as expensive as you may think! Assigning a budget to various aspects of the event will help to make sure that the overall cost doesn't snowball out of control. Although one of the more laborious tasks, at AGM, we take this in our stride and keep within budgets without impacting the event's quality.
Project management
Full project management of the event ensures a smooth organisation process without any hiccups. Event managers keep in regular contact with clients to keep them updated with how their event is taking shape.
The big day!
You've been counting down the days until the big day and it's finally here! The event planning was a breeze, so why let the relaxation stop there? AGM event co-ordinators will be onsite from set up to close to ensure that every element is spot on. All that's left for you to do is to enjoy the event and mingle with your guests!
Contact us to book a free event planning consultation!
If you have an event you'd like to host and don't want the stress burden that can come with going solo, why not give us a call on 01420 471610 or drop us an email admin@agmhouse.com